Electric vehicles light up the London Classic Car Show
A collection of electrified classic cars stole the show at the annual Classic Car Show in Syon Park, London.
The London Classic Car Show, which will is open for the whole weekend, showcased more than 120 vintage vehicles, including a series of classic cars which have been converted to electric.
The market for electric classic cars is growing, with a number of firms championing the new technology, including Everrati and Lunaz Design.
As a result, electric cars were centre stage at the show, and one of the models on display was Electrogenic's Jaguar E-type, which is available in three different versions, including Tourer, Sprint and Grand Tourer.
The electric E-Type, which starts from £54,000, has a range of up to 250 miles and delivers up to 300kW of power and 600Nm of torque, for high performance.
Ian Newstead, director and co-founder of Electrogenic, commented: "The E-type's reputation is well-known in the industry, and living up to that is never going to be easy – but this is a wonderfully engaging car to drive."
Steve Drummond, director and co-founder of Electrogenic, added: "Each vehicle we re-create is customised, but engineering three distinct motor options gives our customers a clear starting point for the conversion. Each of the motor systems complements our battery and power electronics module that bolts directly to the original engine mounts, and which is designed to accommodate both left and right-hand drive."
Also on Electrogenic's stand was its Morgan 4/4 – 1957, Volkswagen Karmann and Land Rover.
Elsewhere, Electric Classic Cars was demonstrating its collection of electrification projects, with its signature showpiece, the 1967 Austin Mini, turning a lot of heads.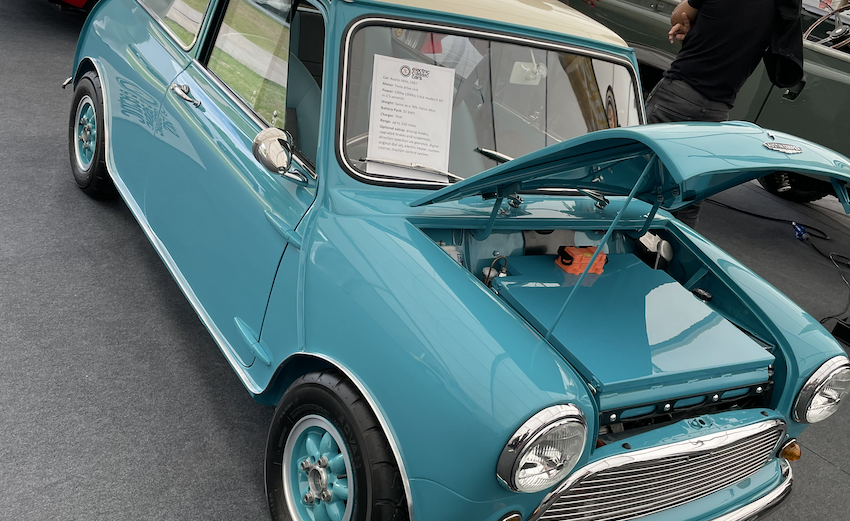 The car, which has previously featured on an episode of Vintage Voltage, is fitted with a Tesla drive unit, the magnetic-blue Mini delivers 100hp (300hp in 'track mode') which results in 0-60mph being achieved in a blistering 3.5 seconds.
The converted electric Mini weighs exactly the same as its 90's classic counterpart and also boasts a range of up to 150 miles. Optional extras also include different driving modes, upgraded brakes and suspension and direction selection via the gearstick. The Mini also comes complete with digital dials, an electric heater and a custom interior.
Another electric conversion that caught the eye was the funky 2cv, developed by 2cEv. Only 30kg heavier than the original, the 2c'ev' delivers 120nm of torque thanks to its 11kW battery.
Also scheduled for the London Classic Car Show is an audience with Richard Hammond, who will be discussing everything to do with classic cars and the role of electric conversions.