Zapmap lists top locations for dog walkers with EVs!
To celebrate National Dog Day this weekend, Zapmap has curated a list of the best dog-walking spots for electric vehicle drivers!
From Shetland to Sheffield and beyond, these ten great dog walks with a difference represent the pick of the pack, chosen by expert electric car drivers: users of the Zapmap app.
With tidal-powered chargers, theatres and reservoirs, these charging sites with a twist will appeal to pet owners of almost all sensibilities.
Charging by the sea, Cullivoe Pier, Shetland
The Isle of Yell may be separated from the mainland, but it isn't cut off from much else in the 21st Century. In fact, the second largest of the Shetland Islands might even be surging ahead of the rest of Britain on a wave of innovation.
Thought to be the first of its kind, a charging point installed by marine energy specialist Nova Innovation at Cullivoe Harbour is powered by the tide. Operated by ChargePlace Scotland, it's a great place to start a number of walks with your pet pooch, including to the nearby Loch of Brough, Loch of Garth, or further afield to Sellafirth or Breckon Sands.
Whichever route you choose, you'll be sure to find solace in nature on the open shores of the Shetland Isles – and your car fully charged from one of the 22kW devices on the pier upon your return.
A bay with a view, Portballantrae, Northern Ireland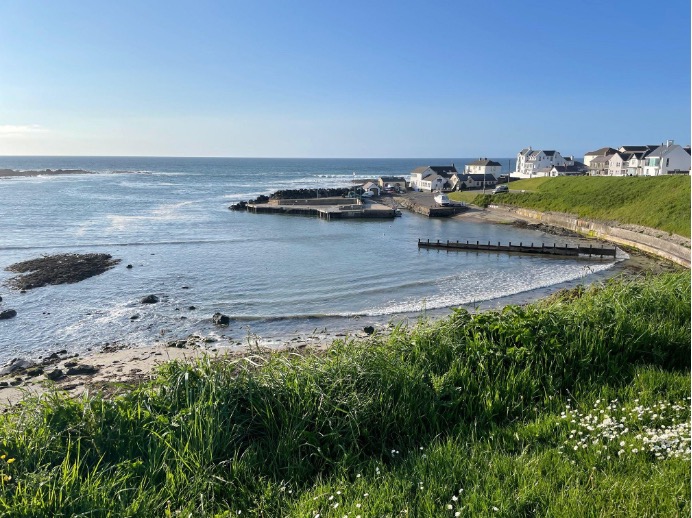 "Peaceful," is how Zapmap user Robert Wilkinson describes one of his favourite spots to walk his dog on the Antrim coast – "but quite close to the Giant's Causeway."
He tends to stay at Portballantrae's Bayview Hotel, which has a number of charge points on offer for residents. It's about an hour's walk to the famous Giant's Causeway, and a good stomp for both you and your four-legged friend. To the west, The Gallows and Dunluce Castle also provide spectacular coastal views.
For those not wanting to stay the night, you can check on Zapmap for availability at the Park & Ride in nearby Bushmills, which offers both the chance to charge up with ecar NI as well as access to the Causeway.
Culture on the coast, Minack Theatre, Cornwall
A unique, open-air venue set on the side of a cliff, the Minack Theatre has spectacular views across the water, where dolphins are frequently spotted.
Cut into the rockface and jutting out into the crystal blue sea, this near-100 year old theatre in Porthcurno also offers electric car charging for customers, and fantastic walks for furry fidos. The South West Coast path provides an obvious route, east to Penberth Cove and the dog-friendly Logan Rock Inn, or west to the intimate Porthgwarra Beach and cafe.
Be sure to tie in your walk with a viewing at the theatre (the charge point is provided for customers), and just soak up the scenery. "The best charge with a view," says Zapmap user rayz77. "Helpful parking attendant…Three spaces."
Bays on the beach, Ardrossan, North Ayrshire
"I'm fortunate enough to live in an area where there are many chargers in nice places, from beaches to forest walks," says Zapmap user Neil Munro, "where you can conveniently charge while you go on a walk with the dog."
One of Neil's favourite walks is along Ardrossan South Beach, where there is a 22kW ChargePlace Scotland device conveniently situated in the beachfront car park.
"You can walk along the promenade or beach between the towns of Saltcoats and Ardrossan," he says. "There is also a nice dog friendly cafe called Moka in the area, as well as some pet shops too."
Recharge and rewild, Knepp Estate, West Sussex
The 3,500 acre Knepp Estate is one of the biggest rewilding projects in Europe. With wildflower meadows, ancient woodland and a swimming pond, there's certainly a lot on offer, whether you're after the campsite, a safari – or just a great walk.
A classic example of destination charging, the estate has two electric vehicle charge points at the campsite thanks to Zero Carbon World, and the team is working on providing charge points at the walker's car park.
"Plugged in and went for a coffee and a cake at The Stork Cafe," says Zapmap user HAWOO. "Spent the afternoon walking around the Knepp Estate and returned to a fully charged car. Much nicer than killing time on a garage forecourt!"
Another Zapmap contributor, highplaces, adds: "One charger in the car park, which you can use whether you are a day visitor or staying. If you are staying overnight you can use the second charger which is in the farm – just ask at reception."
Although you'll find deer, horses, cattle and more roaming across sections of the estate, the Knepp team welcomes well-trained dogs and responsible owners. "We want you and your four-legged friend to enjoy your visit," the website states, "but please help us with rewilding by adhering to the following rules."
Stop and spot, The Dingle Boardwalk, Anglesey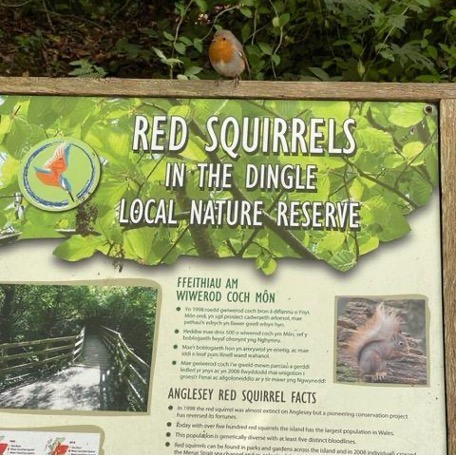 "We visit Anglesey on a regular basis," says Zapmap user Mike Collins, "where we take our dog Nerys, a Fox Terrier, to The Dingle in Llangefni."
Officially called Nant Y Pandy Nature Reserve, The Dingle is easily accessible from Llangefni in the centre of Anglesey. It's also a great spot to see all sorts of wildlife, especially red squirrels, which are best spotted from the boardwalk or near Cefni Reservoir.
It's a win-win location for Mike, who uses the SWARCO charge point at a nearby car park to top up the battery while walking Nerys: "We have a great walk outdoors, the dog gets a walk, and the car charges up!"
Watch and wonder, Coombe Abbey, Coventry
"For dog walking in Coventry and Warwickshire, look no further than Coombe Abbey Park," states the website of the Coombe Abbey Hotel. Not only does the park boast a huge amount of space (a sizable 500 acres) for both on-lead and off-lead dog walks, but the gift shop even sells a selection of doggie goodies including leads, bags, toys and balls.
What's more, the park was designed by renowned landscape gardener Capability Brown, features stunning formal gardens and has a beautiful 80-acre lake. With the eight VendElectric 7kW chargers available in the car park, it's the perfect place to take your pooch for a mooch, top up the battery and recharge the soul.
Indeed, the park also has a dedicated wildlife conservation area and is home to Warwickshire's largest heronry – along with other species such as the kingfisher and mute swan – with bird hides for those pets and walkers willing to wait.
For motorway pit stops
Of course, your destination isn't the only place your dog might need a walk. Often, both pet and owner appreciate a stop-off to break up long stints on the motorway. And according to Zapmap users, there are some great places across England in particular to stretch legs tired of driving.
"It has to be M5 Exeter services," says Zapmap user Peter Grant, where you'll find ranks of both GRIDSERVE and Tesla chargers. "Dogs have their own mini forest and picnic area behind the charging points. And food and drinks outside the main terminal."
Further north, Tony Kerbey recommends the InstaVolt chargers by the Starbucks near Swallownest, Sheffield. "It's right next to Rother Valley Country Park," says Tony, "with brilliant walks and loads to explore!"
Close to the border with Scotland, John Harrison-Bryant enjoys taking the dog for a walk at the Todhills Southbound rest stop, where three GRIDSERVE chargers serve drivers' refilling needs. There's more to the rest stop than meets the eye, however.
"There's a 'secret walk' from the charge points outside the Costa restaurant which goes in a straight line into the woods," says John. "It's nice and secure and no one knows it's there – until now!"