Electrogenic's Jaguar E-Type: The most beautiful car in the world
Those are not my words, however, but instead those of Enzo Ferrari when talking about the Jaguar E-Type. Thanks to electrification specialists, Electrogenic, this classic car has been completely reborn.
Classic car conversions are becoming more and more common. At EV Powered, we have filmed with a number of electrified icons, ranging from Twisted Defenders to fully-electric Porsche 911's.
These cars, usually, have a similar profile. Iconic designs with only minor adjustments, and then replacing the old, combustion engine with a stupidly powerful electric motor that can reach 60mph in about three seconds.
There is, of course, a place for those cars, but Electrogenic have done things a little different.
Electrogenic's ethos is to retain the character of every car it converts, or rather, redefines. It is not just about power, but instead the experience of being behind the wheel. It is summarized perfectly on the brands website: "At Electrogenic we take beautiful, classic cars and convert them to 100% electric and we put a smile on your face that is hard to wipe off."
And with this fully-electric 1961 Jaguar E-Type, the grinning starts as soon as you see it.
Design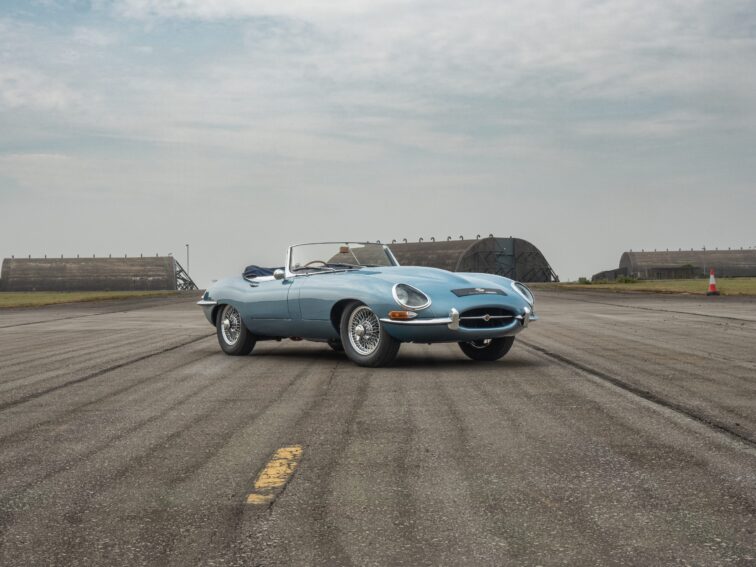 Electrogenic converted its first E-Type back in 2021 to celebrate the 60th anniversary of this iconic car, and considering its reputation as one of the most beautiful cars ever made, the team, unsurprisingly, left the design of the car largely untouched.
Dressed in a charming sky blue, the shape and profile of this car is instantly recognizable, with its long, slender body and 'power dome' that runs down the bonnet of the car. All of these elements, especially its drop-top roof, makes this car more suited to the winding streets of Monte Carlo, rather than an old airfield in Oxfordshire, which is where Electrogenic is based.
Performance
Another detail that separates Electrogenic from the all the other EV conversion specialists is its range of 'drop-in' kits.
The kits theoretically allow anyone to convert their classic car to electric. Essentially, the kit can be installed in place of the original petrol or diesel engine, without the need for mechanical alterations. Simply take out and 'drop in'.
The kits were initially designed for Land Rover Defenders, but Electrogenic has since expanded its range of kits and there is now one available for the E-Type, which boasts a range of up to 200+ miles and 160bhp.
The easy to install, entirely reversible package – which can be fitted by one of Electrogenic's growing international network of partner installers – gives the stunning 1960s machine sensational, clean electric performance. Thanks to Electrogenic's clever packaging and innovative battery pack construction, the electrified classic is also lighter than the original '60s machine.
On the road, this means the E-Type handles markedly better than the original, making it even more enjoyable on those Sunday drives down long, winding country roads.
The E-Type we tested was fitted with the E43 package which equips the classic with 43kW of brand-new, OEM-grade batteries for 150+ miles of range in real world driving.
With 160bhp (120kW) and, crucially, 460 lb/ft (620Nm) of instant torque (at the crank), the E43 kit equipped E-Type can hit 60 mph in under 6 seconds. Thanks to those reserves of torque it packs real performance punch at any speed. The kits drive through a neatly packaged single-speed, fixed ratio transmission, unlike the brands other electric icon, the Porsche 356, which featured a manual gearbox.
The E-Type Kit range also includes larger-capacity E48 and E63 options, which feature 48kW and 63kW of batteries, delivering 160 and 200+ miles of range respectively.
Experience
Having never had driven an original E-Type, I was able to avoid any bias of nostalgia and appreciate this car for what it is and to recognize its purpose.
Electric classic cars do face some criticism, mostly from old-school car lovers, that believe the work of Electrogenic is nothing short of sacrilege. But the fact of the matter is times are changing. We are moving towards a more environmentally friendly age, spearheaded by this new era of electrification, and the work of Electrogenic, and other EV conversion specialists, keeps these classic cars on the road.
As we move forward with electric vehicles, these classic cars will be left behind. They will become too expensive to run, and before too long, there will be nowhere left to drive them. These drop-in kits, therefore, are the saving grace for the E-Type and other beautiful classic cars.
It preserves these designs, too. Regulations for new cars means that it is almost impossible to design something as striking as the E-Type, and so by converting them to electric, you can still enjoy these elegant models.
You are aware of all of those points when behind the wheel. It is quieter, obviously, and when out and about, you become aware of how conventional and boring modern car designs are in comparison.
Even with an electric motor, the E-Type still has character. The interior has been kept in a similar state to the original, so even though there is no gearbox and no sound, you still feel as though you have been transported back to the 60's. The untouched design means the car rattles at high speed, and you feel every bump and contour in the road. In 2023, it is the closest you will get to truly feeling connected to a car.
Most of you reading this will be all-for classic car conversions, and all the points I have listed will make complete sense. But for anyone reading this that still hasn't bought into the whole 'electric car' movement, I challenge you to drive this without smiling. It is simply impossible.